Hinduism is a religion that does not involve worshipping just one god. It's so amazingly beautiful to dedicate your time and energy in worshipping each of those gods, but that comes at a price these days. People worship one god, but that comes at a price of disgracing other. We try to please Lord Ganesha on Ganesh Chaturthi, Goddess Durga on Durga Puja but the price for that is paid by our environment.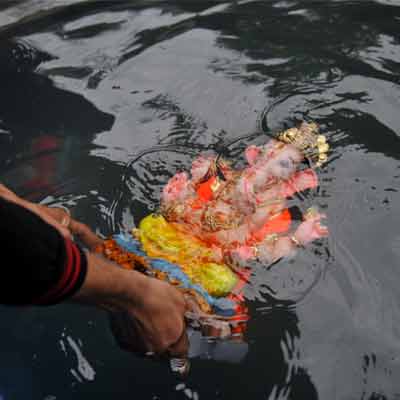 In the past decades, the idol of Shree Ganesh was made of clay; however, with the advent of new materials like Plaster of Paris (PoP), plastic, cement, paper, etc. the idol does not dissolve completely in the water after the immersion. The good news is that a large number of devotees have started to celebrate it in an eco-friendly manner by using clays for making idols. However, it still leaves out a large population that remains wary of the environmental harms they cause. This in turn has, over the last few years, has led to the severe damage of the ecological balance of these cities.
Being a responsible citizen of the country, We should take a foot step forward in making sure that we celebrate these with festive without harming our environment any bit. We have listed down a list of harmful materials and how it impacts the environment.
Harmful materials and how it impacts the environment!
1. Plaster of Paris (PoP)- It does not easily dissolve in water and also reduces the oxygen level in the water killing fish and other aquatic organisms.
2. Paints used for decoration- It contains heavy metals like mercury, chromium and lead which in turn affect the water used for drinking  from the  river where the idols are immersed.
3. Idols of Plastic or Cement- They so not dissolve in water making it polluted and unhealthy for consumption or aquatic life.
4. Loud Music- This is the most common thing we witness around pandals or celebration zone. This leads to noise pollution and health problems to animals who cannot tolerate loud sound.
The purpose of celebrating Shree Ganesh Chaturthi is to express our gratitude toLord Ganesh. Instead, many people celebrate this festival just as a family custom or as a social event. The immersion of incorrectly made idols does not serve the purpose, rather it adds to the environmental pollution.
Here are the things you should do for eco-friendly Ganesh Chaturthi!
1.  You should avoid using chemical paints containing harmful colours and dyes. Instead use natural colours such as turmeric, gheru, multani mitti, etc. for idols.
2. You can use biodegradable items like plain paper or colored paper for decorations instead of thermocols.
3.  You can remove flowers, garlands, clothes, plastic and other decoration items before immersing the idols in river or sea. Distribute food items like coconuts and fruits to the poor.
4. Make a compost of all the biodegradable items including flowers, etc. which can be mixed with the soil later for harvesting new crops or flowers.
Trending Posts
How to deal with negative emotions!