Associating the name of the region with their natives is a common thing. But dare you call someone from Bihar a "Bihari". What makes them so much vulnerable? Is it the stereotype or pertaining myths? We have listed some of these.
MYTH 1: "BIHARIS" INVENTED "GAALIs"
You'll be happy to know, no gaali is patented to any Bihari. Yes, like everybody else they too abuse, when they are angry, but they are not known to invent any such cuss word.
MYTH 2: BIHAR RANKS FIRST IN TERMS OF CRIME RATE
Another lesser know fact is that out of 29 states, Bihar ranks 22nd in terms of crime rate. Hence, very clearly, it is not a state of criminals.
 https://en.wikipedia.org/wiki/Indian_states_and_territories_ranking_by_crime_rate
MYTH 3: BIHARIS ARE UNHYGIENIC AND FILTHY PEOPLE
The slow pace of economic development, the highest density of population, caste based politics and lack of educational opportunities forced the natives of Bihar to migrate. With no skills or qualifications majority  ended up as a laborer, field worker, rickshaw puller etc. Meager income, responsibilities at home and increase in the cost of living made them live at slums and challs. But they are not "filthy" or "unhygienic"
MYTH 4: BIHARIS HAVE A WEIRD AND FUNNY ACCENT
The fact is people are hypocrites. An American saying "Dum humko ashe keshe bole" is cute, but a Bihari saying "Hum bole the na, udhar jana hai" is weird and funny.
MYTH 5 : BIHARIS ARE BOOKWORMS
I guess this needs to be printed in bold and painted all over the Earth. Biharis do not make "daal-chawal" in the morning and study all day. They are nerds but not bookworms.
MYTH 6: BIHARIS EAT RICE WITH HANDS
"Haryanvis" eat "roti" with "pyaaz", Jains with "sev",  Punjabi's with "lassi" and nobody bats an eye but Biharis' eat with hands and everybody loses their minds.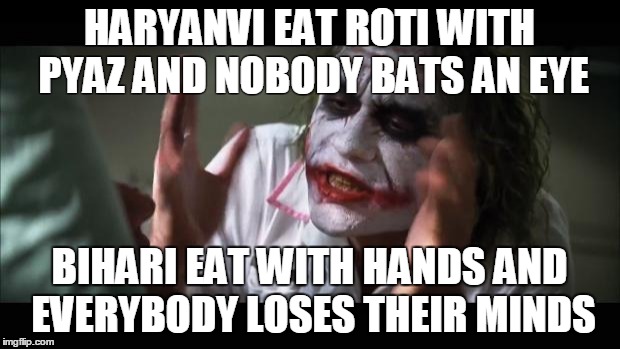 MYTH 7: BIHARIS ARE WHAT THEY SHOW IN BHOJPURI MOVIES
This is like telling since "Mihir" died and re-died million times and "Tulsi" married and re-married a thousand times in "Kyunki saas bhi kabhi bahu thi"; every Mihir and Tulsi does that. Movies are based on fiction and all they contain is drama. People should judge others by that parameters.
Trending Posts
How to deal with negative emotions!